And the rest of you, too!
He left the comfort of Heaven to come to a place where His body would be vulnerable to the same ailments as ours. He endured the same discomforts. When it was cold, He shivered. When it was hot, He sweated. He subjected himself to every temptation that we must endure. And yet with all physical and spiritual temptations visited upon Him, He sinned not, and then became the propitiation for our sins, who have failed in a million ways.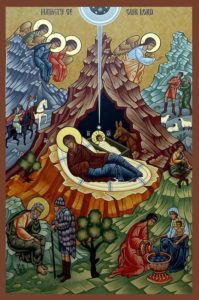 We should absolutely enjoy the Feast of Christmas, without turning up our noses at the "materialism" in the gifts and decorations, or the "gluttony" of meals and drinks shared with loved ones. There is a time for feasting and enjoying the bounty of His provision. The times for fasting and mourning won't be denied, and they are coming. They are inevitable.
One day there will be an eternal feast, with no more fasting when we are finally with our Bridegroom. Let us look forward to that by celebrating our Salvation's coming on this day.
Merry Christmas, all!