Happy Friday! Here are few links of interest for the week:
I'm on Gab now. Follow me @getalonghome, if you can get the page to load. I'm sure they'll have everything running smoothly soon. Still on MeWe, too, and picking up speed there. I do kinda like it.
Researchers identify a new personality construct that describes the tendency to see oneself as a victim. 
An initial three studies established the TIV as a consistent and stable trait that involves four dimensions: moral elitism, a lack of empathy, the need for recognition, and rumination. A follow-up study further found that this tendency for victimhood is linked to anxious attachment  — an attachment style characterized by feeling insecure in one's relationships — suggesting that the personality trait may be rooted in early relationships with caregivers.
Hmmm. Maybe "just mommies" are worth a little something to society after all.

Watch a skilled prosecutor lay out a convincing case. It wasn't patriots making all the trouble on January 6th. But you knew that.
They've got John Sullivan, the Antifa who had a leading role in the storming of the Capitol Building. Also, a couple of Democrats who clearly are not MAGA. Makes me think we could start to see some justice done in this country soon.
I'm using this shiny new app, Foxhole, to watch and listen to a lot of my favorite news-and-views-type people.  I recommend listening to RedPill78, M3thods, and SomeBitchIKnow every chance you get.
A reminder to all who despair: This man is still our President, duly elected, impeached twice, defeated never.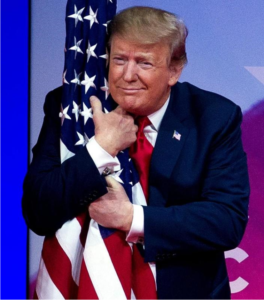 And this man will never be that, no matter what happens next:
Trump is set to declassify everything Obamagate. If you think he was holding off until now out of stupidity, or carelessness, you haven't gotten to know this man at all. He was holding off because now is the right time to do it. There will be more booms to follow.  Just as the prophets foretold, it will be biblical.
Strange things are happening in D.C. No inauguration rehearsal. Razortape wire going up on fences around the Capitol, nobody is allowed on the National Mall at all? Interesting, no? I got all those factoids from Anonymous Conservative, who you could follow, and then I could blog about Mom stuff like I'm supposed to. It's not like I know anything. Just passing it all along.
I'm riding this coaster all the way to the end. Meme shamelessly stolen from thedonald.win: