You can double this recipe, or triple it, very easily, to make it into a pie large enough to share with others. For this, you would want a crust, which I haven't included in this recipe. I'll add a low-carb pie crust in a new post. Or you could just do a web search. There are lots of recipes out there.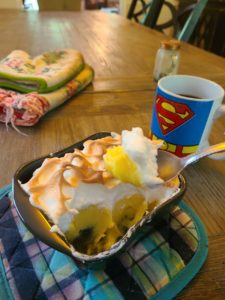 This 2-serving crustless pie ended up being consumed by me and six small people. I gave them about a third of it, a big bite each. This breakfast ended up being my only meal of the day, it was so filling. You could make this a dessert and serve four fat-adapted people instead of two, but for me it's a treat and a meal. Do not attempt to feed this as a dessert to people who ate carbohydrates with their meal. They'll probably die.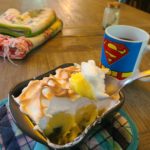 Print Recipe
Keto Lemon Meringue Pie
A crustless dessert made of lemon curd and meringue
Ingredients
6

egg yolks

5

tbsp

butter or ghee

2

tbsp

erythritol/stevia blend sweetener

adjust to personal preference

1

lemon, juiced and zested

2 or 3

egg whites

have at room temperature for best results

1

tsp

erythritol/stevia blend sweetener

adjust to personal preference

1/4

tsp

cream of tartar
Instructions
Combine in a saucepan the egg yolks, butter or ghee, 2 T sweetener, lemon zest, and lemon juice.

Over medium heat, stir the mixture until it begins to thicken.

When the curd coats a spoon and begins to pull away from the bottom and sides of the pan with stirring, remove from heat.

Strain out lemon zest and lumps with a jelly strainer to leave a smooth curd.

Pour the curd into 2 individual ramekins or an 8-ounce baking dish.

Refrigerate for at least 3 hours, until completely cooled.

Just before serving, use a hand mixer or stand mixer to whip two to three of the reserved egg whites with 1 teaspoon of sweetener and the cream of tartar. Beat until stiff peaks form.

Spoon or pipe beaten egg whites onto the top of the lemon curd.

Place under a low broiler until meringue is browned. Watch carefully, as this goes very quickly!

Serve immediately, or hide in the schoolroom and eat both servings yourself.
If you're strictly carnivore (and I typically am, but I can get away with some lemon juice and sweetener, so why not?), you can make a savory version by leaving out the plant stuff and adding just salt, whatever seasonings you tolerate, and a tablespoon or so of chicken broth. It tastes like little more than eggs and butter, but the texture is a very different experience. I quite like it.