Mmmmm, bready!
I'm a simple woman. I'm happy to just grill up a steak or some burgers and call it a meal. No need to get fussy making messes in the kitchen.
Get Along Husband, however, likes his comfort foods, and so do the kids. One thing they all miss like crazy since we changed our eating habits is pizza with a bread crust. People make something called meatza all the time using ground meats and cheese, but it's not very bready, and not worth the effort, in my opinion. This stuff passes for bread, though, and is so easy to do that I can make it happen even on a weeknight.
Print Recipe
Carnivore Pizza Crust
An easy, convincing substitute for pizza crust
Equipment
parchment paper or silicone mats

1 plastic food prep glove
Ingredients
6

oz

pork rinds

6

eggs

1

tsp

baking powder

1/2

tsp

garlic powder

optional

1/2

tsp

rosemary

optional

2

tbsp

parmesan cheese, grated

optional
Instructions
Crush the pork rinds in a blender (or by hand, if that's how you roll).

Add baking powder and other (optional) ingredients.

Whisk the eggs together in a separate bowl, then mix thoroughly into the pork rinds.

Set aside for 3 minutes to soak.

Spread the pork rind mixture onto a parchment-lined baking sheet. A silicone mat will work, as well.

Bake for about 15 minutes, or until beginning to turn golden brown around the edges.

Remove crust from oven, then top with desired toppings.

Place pizza back into oven for 5 minutes, or until cheese has melted and toppings are warm.
Notes
To increase the number of servings, use one ounce of pork rinds for every egg, and adjust for whatever size crowd you're trying to feed.
I find that a plastic-gloved (like these) hand pats the dough out more easily than trying to spread it with a spatula, but a spatula will do in a pinch.
You can top this any way you want. To keep it strictly carnivore and keto, I made a super-simple alfredo sauce by warming up a cup of heavy whipping cream and maybe 1/4 cup of parmesan cheese. You can add seasonings like basil, garlic, and onion to make it a little more zesty. The meat on top of this one is canned chicken, nothing fancy, and little balls of fresh mozzarella.
Of course, I've made this for the whole family with non-meat toppings and tomato pizza sauce. Everybody enjoys it!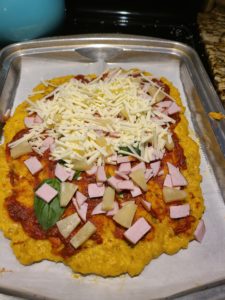 Yes, that's pineapple, and I'm not even ashamed of myself!
How bready is it? Pretty bready. I love it.
You could just make the bread and put a little extra cheese on top, dip it in garlic butter, and you have a delicious garlic bread. No toppings required. And if you want to put the batter about an inch deep into some greased muffin tins, the pork rind and egg mixture would make a fine "biscuit" for biscuits and sausage gravy (which I am totally doing for Sunday breakfast this weekend). This batter/dough is really versatile.
So if you're thinking you can't cut the carbs because you'd miss bread too much, try this. You don't even have to be a cook.
Update:
I found this marvelous stuff at Wal-Mart (I know, I hate them, too).
You can use this instead of having to crush your own pork rinds. It's 10.5 oz, so if you use the whole can, you'll need 11 eggs and 1.5 teaspoons of baking powder. It comes out to two medium-sized pizzas. And it costs less to buy it this way than to buy whole bags and crush them yourself. Yay!