Do you hate it as much as I do when a blogger posts seventeen paragraphs of text before giving you the recipe? Here ya go. Scroll on down for the blog post, if you care for it: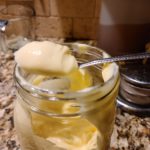 Print Recipe
Clean Keto Mayonnaise
A healthy mayo that uses no seed oils or sugar
Ingredients
1

egg

1 1/2

tsp

apple cider vinegar

1

tsp

ground mustard

1/2

tsp

salt

or to taste

1

dash

white pepper
Instructions
Add all ingredients except coconut oil to a wide mouthed glass jar (or whatever you'd like to store your mayo in).

Slowly drizzle the coconut oil into the rest of the ingredients as you blend with your immersion blender.
Notes
This recipe doubles easily. 
You can add any number of herbs and spices to this to punch it up even more. 
Anybody can make mayonnaise, and from almost any oil. It's not even hard, so why doesn't everybody do it? Well, the devil is in the details. With most mayos, you have to choose two of the following three things: healthy fat, great taste, pleasant mouthfeel. You'll be glad to hear that I've exorcised this particular demon for you, so you can now have the best possible mayonnaise, without compromising your health.
Most any mayo you find in the grocery store, even the ones that tout their use of healthy fruit oils like olive or avocado, still use canola or soybean oil as their base. You can get a few clean brands (Primal Kitchen is pretty good), but they cost so much it's hard to stomach the purchase. They also don't taste as good as this mayo does, in my opinion.
There's a good reason for the use of seed oils in mainstream mayonnaises, beyond their cheapness. It is just really hard to emulsify animal fats into a properly textured mayonnaise. Olive oil has a whang to it that makes it less than desirable for that particular application, and avocado oil is even more expensive. Also, a lot of people are allergic to avocados.
A lot of carnivores love bacon grease mayo. I don't care for either the taste or the texture. Some use lard, barely melted on the stove, but I don't like the texture of that, either. Good coconut oil is too solid for the job.
But we really like our mayonnaise around here. So what to do?
I have found just one product that I can both afford and that gives the flavor and mouthfeel of the very best mayonnaise. It's a liquid coconut oil from Carrington Farms. (I don't receive any compensation from my links. I just like the product.) One bottle, costing less than $12 gives me about 4 cups of mayonnaise, which makes it a sight less expensive than the paleo-type mayo that you find in the store for $12 a pint. I also use Chosen Foods Avocado Oil. Just make sure you're buying a brand that's 100% avocado oil.
I can't personally consume the coconut oil kind because coconut oil taken internally gives me a rash, but Get Along Husband and the kids love it. The avocado oil is perfect for everybody. I hope you enjoy it, too!