This diet just gets weirder and weirder.
I showed you earlier how to make a cornbread simulation I like to call Carnbread. Now let's turn that oddly bread-like loaf into a stuffing for your Thanksgiving turkey! Or maybe your Thursday night chicken dinner, since this is January.
Carnbread stuffing is made in a similar manner to cornbread stuffing.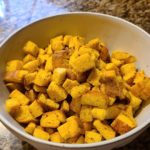 Print Recipe
Carnbread Dressing
A meaty alternative to cornbread stuffing
Ingredients
2

loaves

carnbread

2

tbsp

dried sage

2

tbsp

dried minced onions

a teaspoon of onion powder could also be used

2

tbsp

paprika

2

tbsp

dried parsley

2

tsp

salt

1

tsp

rosemary

1

tsp

celery seed

2

tsp

thyme

1/4

tsp

white pepper

1/4

tsp

black pepper
Instructions
Optional, but helpful for a better texture: Freeze the bread overnight or longer, wrapped in plastic wrap or zipper bags, then allow to thaw before continuing.

Cut Carnbread into 1-inch cubes, and toss in a large bowl with all other ingredients.

Spread the cubes in a single layer onto two (or more) baking sheets

Bake in the oven until they are crunchy and turn golden brown.

Stir occasionally, and taste-test to see if they're as done as you like.

Now you have croutons! Stop here if you just want to snack on some croutons, or eat them with egg drop soup or something.

To make the dressing, mix the now-crispy croutons with two cups of warm poultry stock.
Stuffing (or dressing, I guess, since I never put it inside the bird) is my favorite part of the Thanksgiving meal. It was, anyway, before I figured out what all that delicious food was doing to my body. Good news, carnivores: we don't have to miss out on the stuffing experience! This stuff is so close to bread stuffing that I think I could have served it without explanation on Thanksgiving and nobody would have figured out that it's not made of bread. They wouldn't have thought it was normal bread, to be sure. The texture isn't exactly right, so maybe they'd have guessed it was one of those Ezekiel breads or gluten-free breads.
As with any carnivore recipe, you can and should leave out any and all spices that you don't eat. On special occasions, I go ahead and use the spices I normally skip. I served this dish right alongside my bread stuffing. Guess which one people preferred? This dressing is really good! I don't know if I would actually put it inside a turkey and bake it. That would probably be soggy and eggy-tasting. Let me know if you decide to try it. I'm not that brave.