AKA Carnbread
Recipe first. We'll talk later.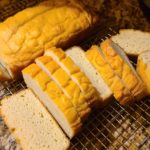 Print Recipe
Carnivore Cornbread
A fairly bready substitute for cornbread
Ingredients
butter, bacon grease, or lard

for greasing pans

3

12.5 oz cans

canned, cooked chicken, well-drained

Sub your own pre-cooked chicken if you like.

14

large

eggs

1

tsp

baking soda

1

tsp

cream of tartar

1

tsp

salt

I use Redmond's Real salt. If you use regular table salt, you may want to halve the amount.

4

tbsp

unsalted butter

1/2

tsp

crushed dried rosemary

(Optional, helps with the eggy flavor)

or 2

Tbsp

Lakanto monkfruit or other keto-friendly sweetener

(Optional, for a sweet version. Omit rosemary if choosing this option.)
Instructions
Grease the two loaf pans. If the pans are cast iron, put them into the pre-heating oven to warm up.

Blend the drained chicken and eggs in a blender until thoroughly mixed.

Divide the batter into the loaf pans.

Bake for about 50 minutes, or until the "bread" has completely set.

Turn out immediately onto a cooling rack to cool.
I don't do a lot of food substitutes. If I can't eat a thing, I don't often try to make something similar to fill that niche in my diet. However, there are occasions–Thanksgiving, Christmas, days-ending-in-y-when-I'm-tired-of-the-same-old-same-old–when a little bready substance seems like it would hit the spot. This recipe evolved from several carnivore recipes I've found online that weren't big enough–or tasty enough, frankly–to feed my large family. I used this recipe recently to make croutons which then became a carnivore "stuffing" to go with our Thanksgiving turkey. The recipe for that is coming soon. Everybody said that my version was just as good as the gluten-free bread version I made for the normal people, and it disappeared just as fast, so I guess they were telling the truth!
A word of warning for the unwary: a slice of real bread has nothing like the nutrient profile of a slice of this fake bread bread simulation. So when you're eating carnbread (as I just decided to rename it), it is not going to serve the same function as cornbread. You'll fill up very quickly on this loaf. I ate a few slices last night as my main course, simply buttered and dipped in a delicious meat stock. It was a very satisfying meal.
I've poured the batter into individual-size casserole dishes that made loaves just the right size for a hamburger bun, and that works beautifully for a cookout where you'd like to be able to eat a sandwich just like everybody else. Goes great with my homemade clean mayo. You might not be able to eat the whole sandwich, though. It is a lot of food.
You could also use a couple of well-greased muffin tins to make cornbread muffins. Just watch the cooking times as you change the shape and size.
I haven't actually tried sweetening the bread for a dessert-like treat yet, but I have it in my head to do a maple and vanilla flavored one sometime. Since it doesn't taste very chickeny, but is a little eggy, I think it will be pretty tasty. I'll report back on that if I ever do it. In the meantime, I hope you enjoy this recipe!
Let me know via Gab, MeWe, or SG if you try it. Or if you refuse to try it. Whatever, just come talk to me!